ZF Lenses - Lenses with F bayonet for Nikon or Fuji SLR cameras
ZF lenses are equipped with the AI aperture coupling as well as the pre AI coupling. They do not include CPU coupling. Due to this, exposure metering and control is possible with all corresponding camera models. Used with camera models without AI or fork coupling the aperture is closed to the pre-selected value, but metering and automatic aperture control is not possible.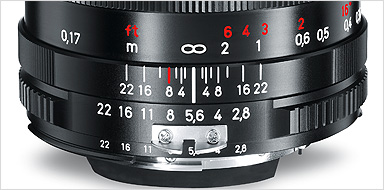 ZF.2 Lenses - Lenses for camera bodies that are not AI-compatible with F bayonet for cameras from Nikon
ZF.2 lenses support all key modes (e.g. aperture priority, shutter
priority, program AE or manual exposure settings) on camera models equipped with an electronic interface (e.g. current Nikon DSLR cameras). To do so, simply lock the aperture ring in the largest f-stop (e.g. 16) shown in orange.
ZE Lenses - Lenses equipped with an EF bayonet for EOS cameras from Canon
EF lenses feature electronic shutter control and additional electronic contacts to the camera. All existing exposure programs (P, AV, TV, M) and the AF verification function of the camera are supported; lens information (focal length and speed) is passed on to the camera. Certain functions that require the use of AF lenses (various subject programs, A-DEP) are partially unavailable.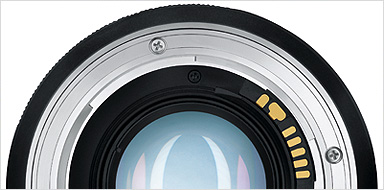 ZK Lenses - Lenses with K bayonet for Pentax or Samsung SLR cameras
ZK lenses correspond with the KA standard. Additionally to the mechanic aperture coupling the lenses are equipped with an electronic contact pin. Furthermore, the aperture ring can be locked to the automatic mode (green "A"). Thus, all different exposure control settings (time, aperture and program mode) are possible with these camera models.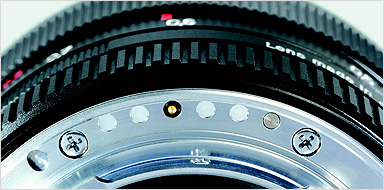 ZS Lenses - SLR lenses with M42 screw thread to use with adapters on different SLR camera models
ZS lenses are equipped with a push pin in order to close the aperture. Furthermore, they are equipped with a locking switch to change from manual to automatic aperture control. Due to this, the lens can be comfortably stopped down to working aperture when used with an adapter. The aperture priority can be used as well.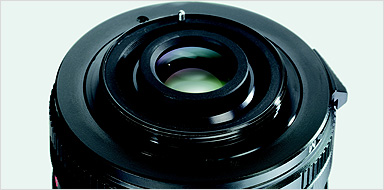 Source: Carl Zeiss AG
http://lenses.zeiss.com/photo/en_DE/oth ... ounts.html